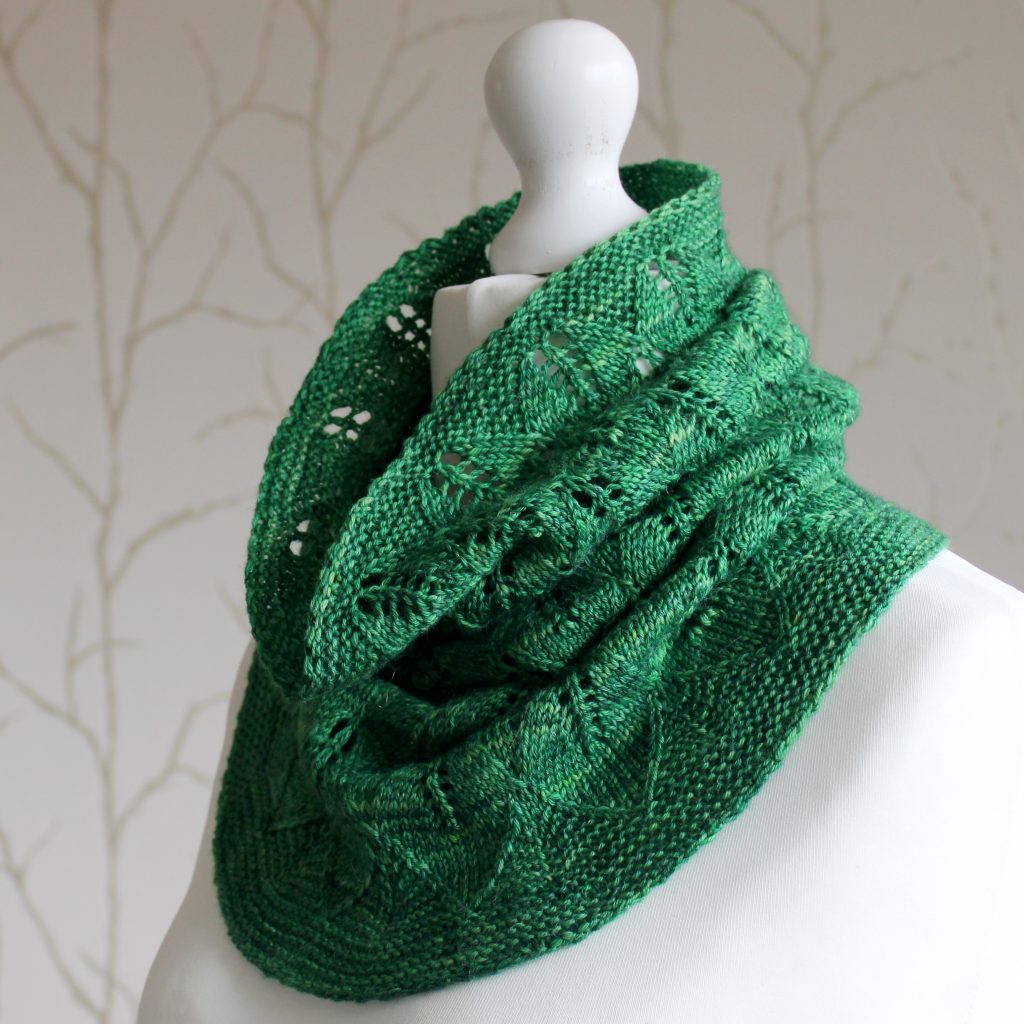 This design started when Ishrat very kindly gifted me a skein of her Merino/Bamboo 4 ply yarn in a beautiful dark green. I knew right away I wanted to do something really special with it. The colour, of course, said leaves to me – I was still working on my Four Seasons of Socks collection at the time so leaves were on my mind! The bamboo is a lot like silk – it adds beautiful drape and a lovely sheen so I knew I wanted to use it for a shawl or a cowl. I eventually settled on a cowl because that fitted nicely into my release schedule and I like to make slightly bigger shawls when I can these days.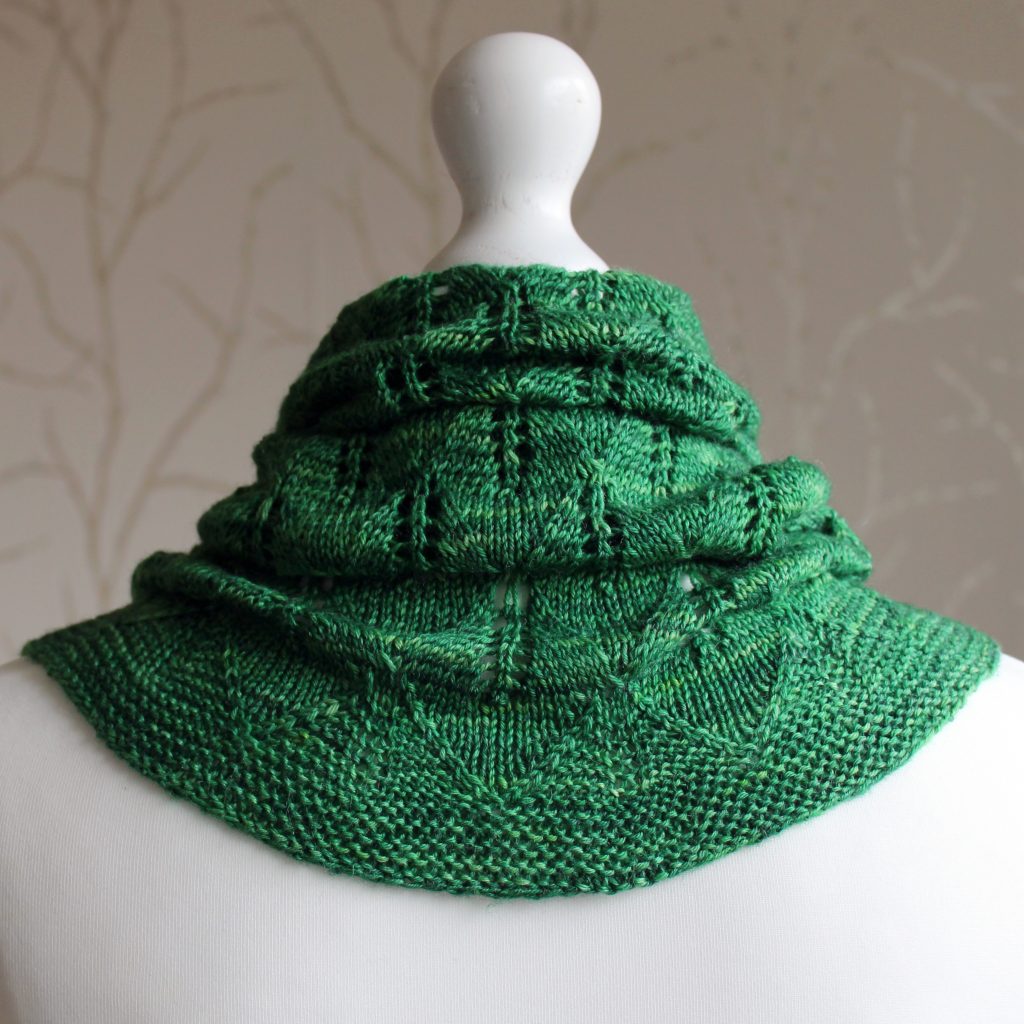 I've had this lace pattern in mind for a design for ages and this seemed like the perfect opportunity to use it. I love how the diamond shaped leaves fit together and it was a really easy pattern to increase in size slightly from the top of the shawl to the bottom to give it a beautiful tapered shape which also means it sits nicely on your shoulders while being snug and cosy around your neck. The border gave me a slight challenge – to begin with I was contemplating a fancier lace border but in the end I settled on matching the top of the cowl but making it a little deeper for more of a statement.
The cowl is flexible and can be blocked either laid flat and pinned out or if you have blocking wires, you could block it in the round. If you block it flat, pin the top out smooth, then stretch it down well and pin out the bottom smoothly too. The cowl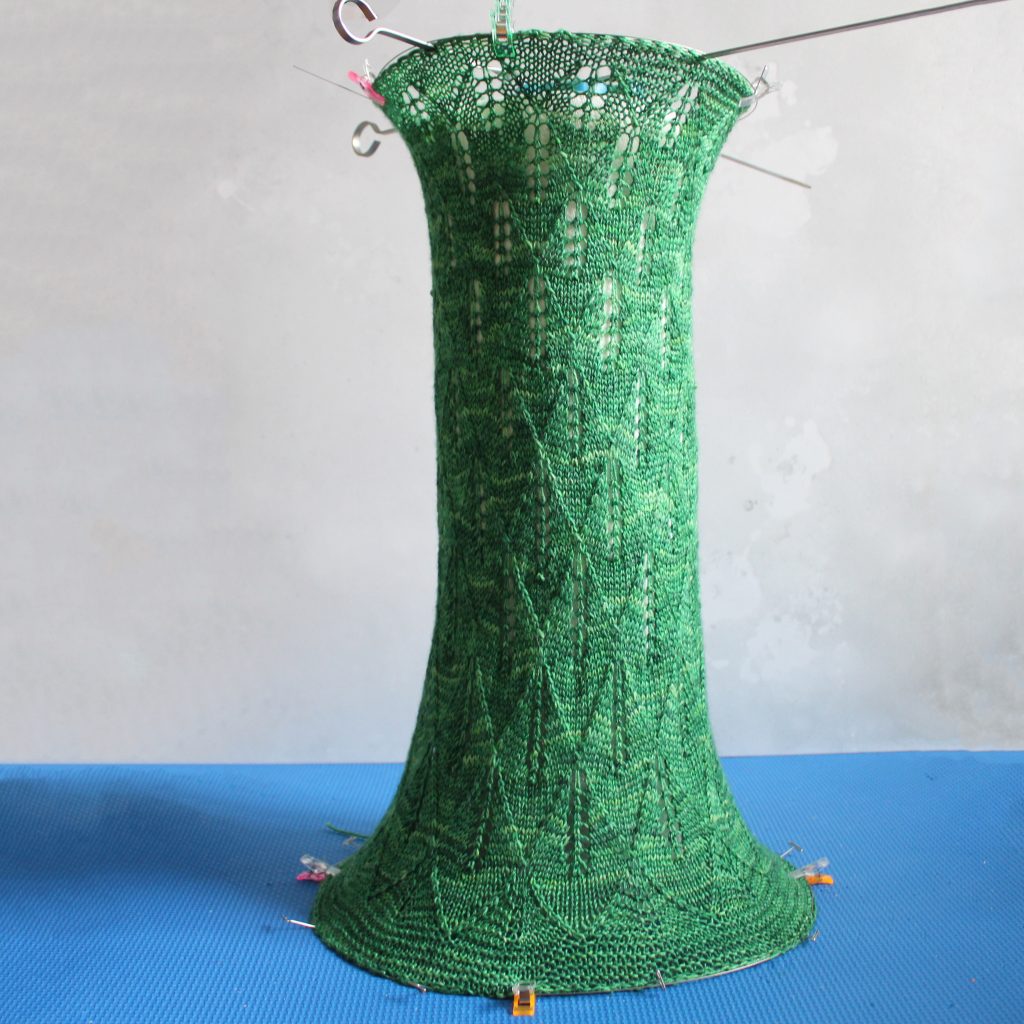 should flare out at the bottom. If you do have blocking wires, I recommend blocking the cowl in the round. Simply thread the wires through the cast on and bind off smoothly, then find something you can use to stretch the height of the cowl. I used two kitchen rolls stacked on top of each other with a piece of one of my kid's wooden dinosaurs to get the right height, then I used a couple of barbeque skewers and threaded them just under the blocking wires to hold up the top. I pinned the bottom down to hold it in place and left it to dry! The main advantage of blocking in the round is that you don't get the two side creases that you get when blocking flat.
Below you can see all my testers projects in various different yarns! There's a beautiful range of yarns and colours.
You can get 25% off Lozent with the code LeafSale until midnight (UK time) on the 23rd March 2021. The pattern is also on Lovecrafts!
If you want to find out what I'm up to between blog posts you can keep an eye on what I'm up to on Instagram, or come join me on Patreon to find out what I'll be releasing in April and May! If you'd like an exclusive 40% discount on future releases sign up for my newsletter – I only send out emails when I release a new pattern or am having a sale, so usually, you'll only hear from me about once a month.