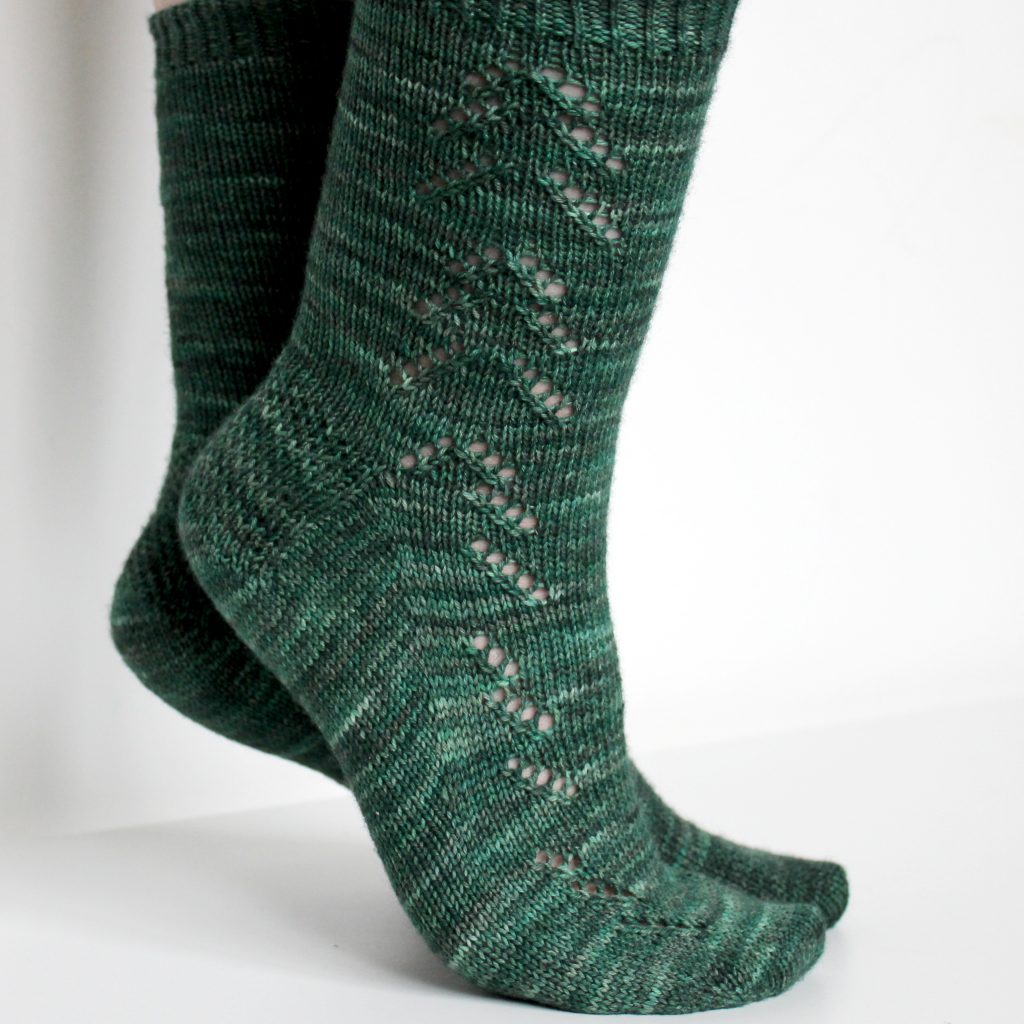 I'm delighted to be sharing Giuthas with you at last! This is the final sock in my Four Seasons of Socks collection and, in keeping with most of the other patterns, it has half a tree up the side of the foot which widens to a full tree up the leg! The name means pine or fir tree – which honestly is the only possible option for winter since it's practically the only greenery we have left here now! (My design skill are not up to inventing a believable holly leaf! I like the connection to Christmas trees, and you could certainly dress them up with duplicate stitched tinsel and baubles for a more Christmassy feel!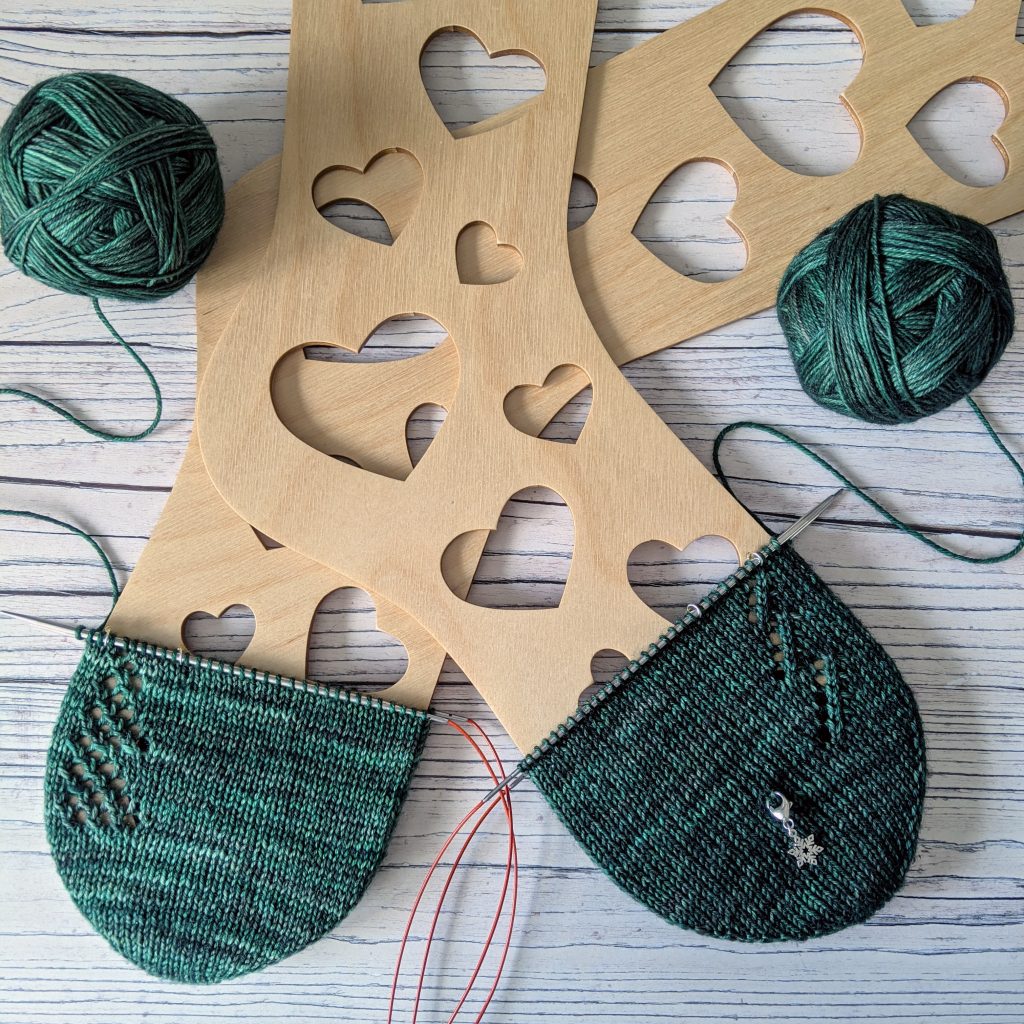 The sock wasn't plain sailing. I made up the lace pattern and I had a couple of tries at getting it right. I tried making a more lacey "mesh" tree, as well as the outlined one that I ended up using. I liked the mesh one, but I felt like the shape of the tree got lost and distorted and in the end, I preferred the more solid "outlined" one with it's sharp, precise decrease lines, so that's what stuck! I also played around with the number of rounds for each tree and how to divide it up into the top, middle and bottom sections of the tree – I love the current proportions!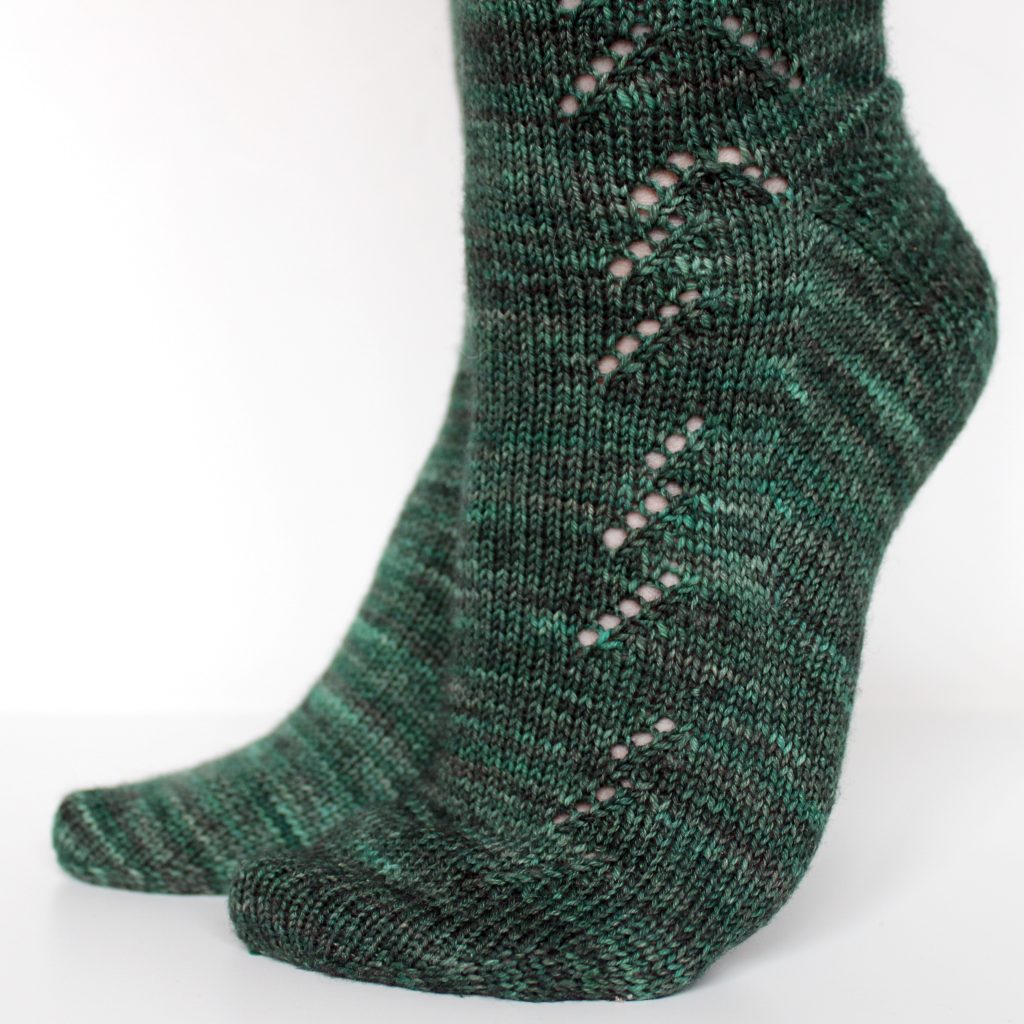 I made my socks with Fruitful Fusion Merino/Nylon 4ply in Rand which Ishrat very kindly dyed for me. It's absolutely perfect and just what I was looking for to make my vision come alive! But if you'd like to see it in other yarns just scroll down to the bottom of the post and see what my testers used and the beautiful projects they made!
You can get 25% off Giuthas here on my website (or Ravelry) with the code TreeSale. The pattern is also on Lovecrafts! Don't forget to check out my Fasten Off YarnAlong sale too for 25% off 20 of your favourite patterns this year!
This is my last pattern release on Ravelry. In January, I'll be disabling my Ravelry store (although I'll keep posting pattern pages so you can link your projects). This is because Ravelry have stopped working on accessibility since they announced the retirement of the "Classic" skin in September. I cannot use either the Merino or Herdwick skins without getting a migraine and when Classic goes in March I will not be able to use the site. I will not pay fees and support a company that is actively excluding a large chunk of their membership. 
If you want to find out what I'm up to between blog posts you can keep an eye on what I'm up to on Instagram, or come join me on Patreon to find out what I'll be releasing in January and February (or the next three months)! If you'd like an exclusive 40% discount on future releases sign up to my newsletter – I only send out emails when I release a new pattern or am having a sale, so usually, you'll only hear from me about once a month.